BeautiEdit | #nofilterjustbeautiedit
Tan, Treat, Hydrate
Shop our 3 IN 1 Self-tanning Foam.
What Our First Testers Say About Our
Tan, Treat, Hydrate

Self-tanning Foam
"So excited about THIS TAN, I have tried and tested it, by far the best I have used on the market; anyone who knows me knows I suffer from Psoriasis. This Tan has been perfect for me! No flare-ups, even coverage, no streaks, so smooth and hydrating on my skin."
★★★★★ 

"So what's good about this tan? Well, it smooths like butter! The quality and tone of the colour is AMAZING. It doesn't react with my sensitive and dry skin. I am OBSESSED and you will be too! "
★★★★★ 

"I literally can't wait for the tan, nothing can't beat a new fresh tan. The ingredients are amazing, collagen, aloe vera, hyaluronic acid, which feels so moisturising for yourskin. My skin has such a nice beautiful glow!"
★★★★★ 

"After 3 uses, my dry patches were almost non-existent. After further use, they have now disappeared. The scent smells light and summery, my skin felt so hydrated, and the fade was incredible, no snakeskin or having to make sure I was moisturising my skin like I would have to with other tans. I don't think I've ever been this excited about a product. It is total luxury and perfection. I cannot recommend it enough." 
★★★★★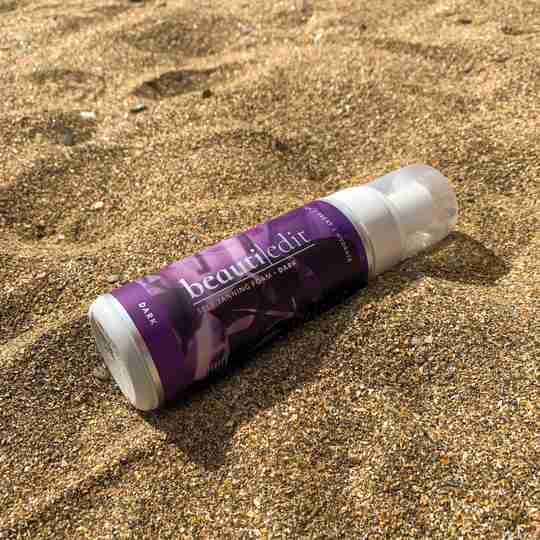 Who Are We?
We are a new innovative tan brand that uses the newest and best quality ingredients to infuse faux tanning with high-performing skincare.
We care about your skin.
We created BeautiEdit to give you a fake tan formula that replenishes your skin and fades away naturally with no snakeskin wear off.

Lasting Hydration For A Flawless Tan
The beautiful faux tan foam has skin-loving ingredients to nourish and improve your skin, including Collagen Hydrolysate, Hyaluronic Acid and Aloe Vera Extracts.
The exclusive, non-sticky, innovative tan formula combines anti-ageing Hyaluronic Acid to hydrate and plump the skin, leaving you with a glowing, flawless natural tan.
Organic actives and luxurious high-end active infusions will leave your skin super-hydrated and conditioned.
Hyaluronic Acid
This nutritious super-ingredient replenishes dry skin, reducing the appearance of fine lines and wrinkles delivering a brighter, intensively hydrated and naturally plump texture.

Aloe Vera
This high-performing ingredient gently soothes and heals the skin while enhancing its elasticity, moisture and overall health appearance.

unprcincl:--:1:|~|:slctvrnt:--::|~|:shwqty:--:true:|~|:qty:--:1:|~|:prdurl:--:#:|~|:prdttlclass:--:pta-39990710:|~|:prdttl:--:
Medium - Tan Treat Hydrate Self-Tanning Foam
:|~|:prdimgtp:--:variant:|~|:prdimgsrcset:--::|~|:prdimgclass:--:zpa-mobile-align--center zpa-align--center pia-39990710:|~|:prdimgalt:--:Medium - Tan Treat Hydrate Self-Tanning Foam:|~|:prdimg:--:https://cdn.shopify.com/s/files/1/0548/7276/8708/products/tan-treat-hydrate-self-tanning-mousse-236335.jpg?v=1622057311:|~|:prdclass:--:ba-39990710:|~|:prdbtnltp:--:cart_current_page:|~|:prdbtnelt:--:_self:|~|:prdbtncpt:--:Add to Cart:|~|:prdbtnclass:--:zpa-button-padding-medium bcss-39990710:|~|:prdbtnalign:--:zpa-button-alignment-center:|~|:handle:--:tan-treat-hydrate-self-tanning-foam:|~|:eid:--:39990710:|~|:dcrt3class:--:ba-39990713:|~|:dcrt2class:--:ba-39990720:|~|:dcrt1class:--:ba-39990718:|~|:crtmsgclass:--:pcma-39990710:|~|:brdclass:--:ba-39990716:|~|:addcrtmsg:--:Product has been added to cart unprcincl:--:1:|~|:slctvrnt:--::|~|:shwqty:--:true:|~|:qty:--:1:|~|:prdurl:--:/cart:|~|:prdttlclass:--:pta-39990709:|~|:prdttl:--:
Dark - Tan, Treat, Hydrate Self-Tanning Foam
:|~|:prdimgtp:--:variant:|~|:prdimgsrcset:--::|~|:prdimgclass:--:zpa-mobile-align--center zpa-align--center pia-39990709:|~|:prdimgalt:--:Dark - Tan, Treat, Hydrate Self-Tanning Foam:|~|:prdimg:--:https://cdn.shopify.com/s/files/1/0548/7276/8708/products/dark-tan-treat-hydrate-self-tanning-foam-109443.jpg?v=1622086557:|~|:prdclass:--:ba-39990709:|~|:prdbtnltp:--:cart:|~|:prdbtnelt:--:_self:|~|:prdbtncpt:--:Add to Cart:|~|:prdbtnclass:--:zpa-button-padding-medium bcss-39990709:|~|:prdbtnalign:--:zpa-button-alignment-center:|~|:handle:--:dark-tan-treat-hydrate-self-tanning-foam:|~|:eid:--:39990709:|~|:dcrt3class:--:ba-39990712:|~|:dcrt2class:--:ba-39990719:|~|:dcrt1class:--:ba-39990717:|~|:crtmsgclass:--:pcma-39990709:|~|:brdclass:--:ba-39990715:|~|:addcrtmsg:--:Product has been added to cart unprcincl:--:1:|~|:slctvrnt:--::|~|:shwqty:--:true:|~|:qty:--:1:|~|:prdurl:--:/cart:|~|:prdttlclass:--:pta-39990708:|~|:prdttl:--:
Ultra Dark - Tan Treat Hydrate Self-Tanning Foam
:|~|:prdimgtp:--:variant:|~|:prdimgsrcset:--::|~|:prdimgclass:--:zpa-mobile-align--center zpa-align--center pia-39990708:|~|:prdimgalt:--:Ultra Dark - Tan Treat Hydrate Self-Tanning Foam:|~|:prdimg:--:https://cdn.shopify.com/s/files/1/0548/7276/8708/products/ultra-dark-tan-treat-hydrate-self-tanning-foam-159928.jpg?v=1622086557:|~|:prdclass:--:ba-39990708:|~|:prdbtnltp:--:cart:|~|:prdbtnelt:--:_self:|~|:prdbtncpt:--:Add to Cart:|~|:prdbtnclass:--:zpa-button-padding-medium bcss-39990708:|~|:prdbtnalign:--:zpa-button-alignment-center:|~|:handle:--:ultra-dark-tan-treat-hydrate-self-tanning-foam:|~|:eid:--:39990708:|~|:dcrt3class:--:ba-39990711:|~|:dcrt2class:--:ba-39990722:|~|:dcrt1class:--:ba-39990721:|~|:crtmsgclass:--:pcma-39990708:|~|:brdclass:--:ba-39990714:|~|:addcrtmsg:--:Product has been added to cart
unprcincl:--:1:|~|:slctvrnt:--::|~|:shwqty:--:true:|~|:qty:--:1:|~|:prdurl:--:/cart:|~|:prdimgtp:--:variant:|~|:prdimgclass:--:zpa-mobile-align--center zpa-align--center pia-39990600:|~|:prdimgalt:--:Soft Velvet Tanning Mitt:|~|:prdclass:--:ba-39990600:|~|:prdbtnltp:--:cart:|~|:prdbtnelt:--:_self:|~|:prdbtncpt:--:Add to Cart:|~|:prdbtnclass:--:zpa-button-padding-medium bcss-39990600:|~|:prdbtnalign:--:zpa-button-alignment-left:|~|:prdbdhtml:--:
Soft Velvet Tanning Mitt
Add our soft and luxurious velvet mitt to help you get the perfect tan.

:|~|:mcontclstclass:--:cac-39990605:|~|:mcontclass:--:zpa-plain-product-022-v3 zpa-plain-product-022 cluster-padding-xlarge ba-39990605:|~|:imgpos:--:left:|~|:handle:--:soft-velvet-tanning-mitt:|~|:eid:--:39990600:|~|:descclass:--:pda-39990600:|~|:dcrt3class:--:ba-39990601:|~|:dcrt2class:--:ba-39990604:|~|:dcrt1class:--:ba-39990603:|~|:crtmsgclass:--:pcma-39990600:|~|:clstid:--:8503540:|~|:brdclass:--:ba-39990602:|~|:addcrtmsg:--:Product has been added to cart